Introduction
There are a lot of new features and improvements added to Topaz Photo AI allowing you to fine-tune exactly how Autopilot should work for you, as well as provide even better sharpening results and significant performance improvements.
Be sure to update to the latest version of Topaz Photo AI to take advantage of these helpful new features.
Greater control over face refinement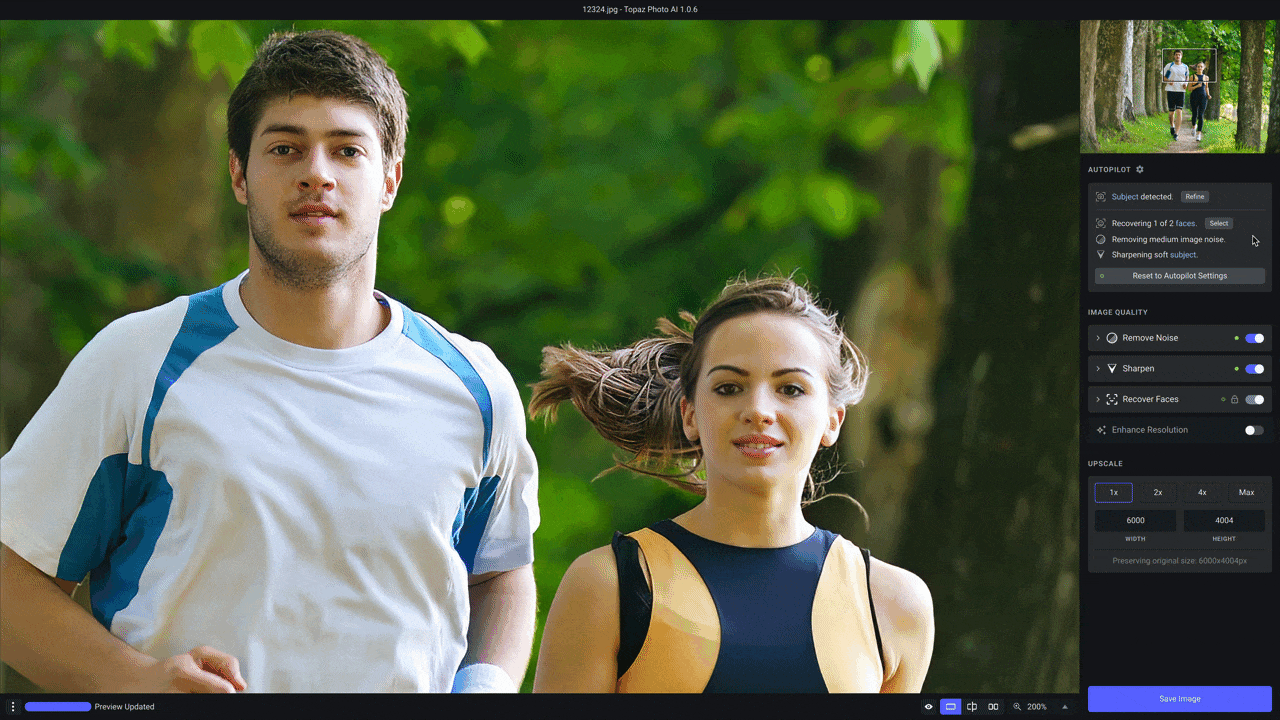 You can now easily choose which detected faces in your image should have Face Refinement applied and which should be left alone.
Face Refinement does wonders with recovering facial details in your low resolution images, often bringing new life to photos that you otherwise may have ignored.
To use this feature, click on the Select button next to Autopilot's face detection line item. Each face in your photo will have a box around it. A yellow box around a face indicates that face refinement will be applied and a grey box indicates that face refinement will not be applied. You can also see a snapshot of all the detected faces with their respective colored dots in the navigator on the top right of the screen.
Make Autopilot work your way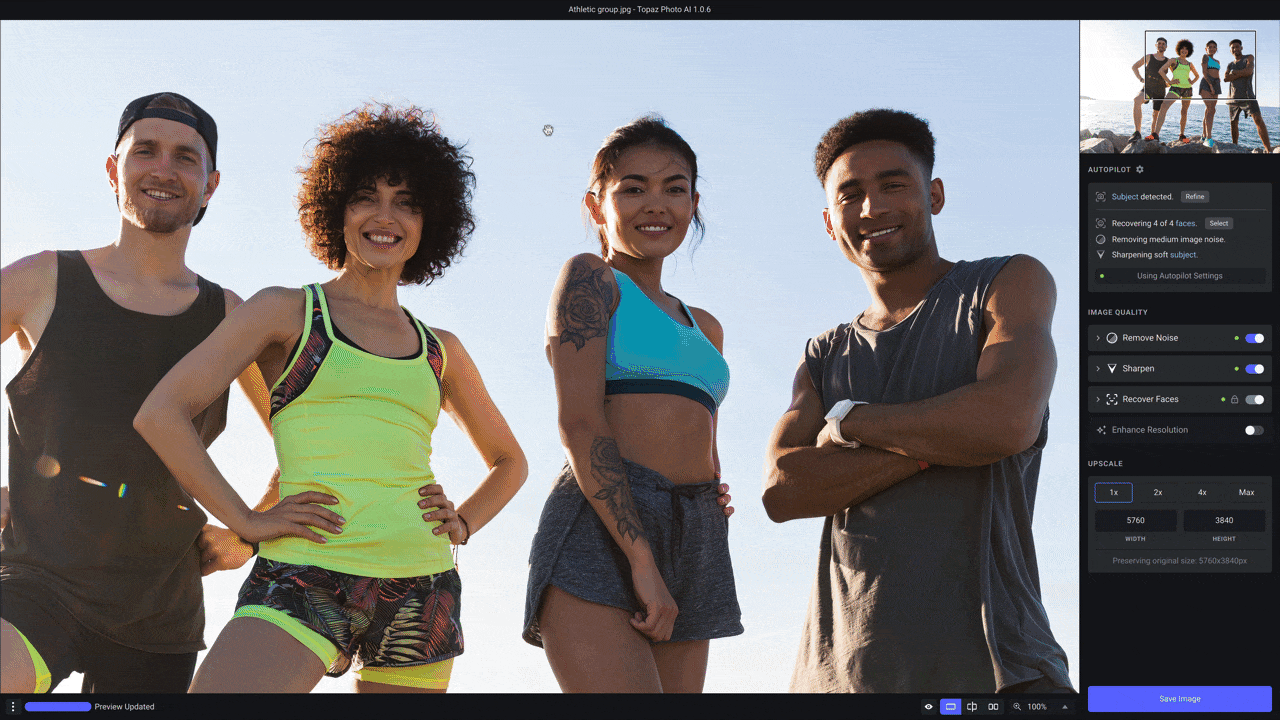 Configure exactly how Autopilot should behave based on your custom needs with the new Autopilot preferences window.
Some Topaz Photo AI users prefer that Autopilot should automatically apply a 4x upscale to their low resolution photos while others want more granular control over how face detection works.
You can control the default subject detection profile, which sharpen models should be considered, whether face detection should be enabled by default (you can always enable it manually using the previously discussed face selection tool), and how you want auto-upscaling to behave. And, you can revert to the default Autopilot settings in a single click.

We also added an option to enable or disable auto lens correction when loading an image. You can toggle this option under the Preferences menu item.
Get unbelievably natural sharpening results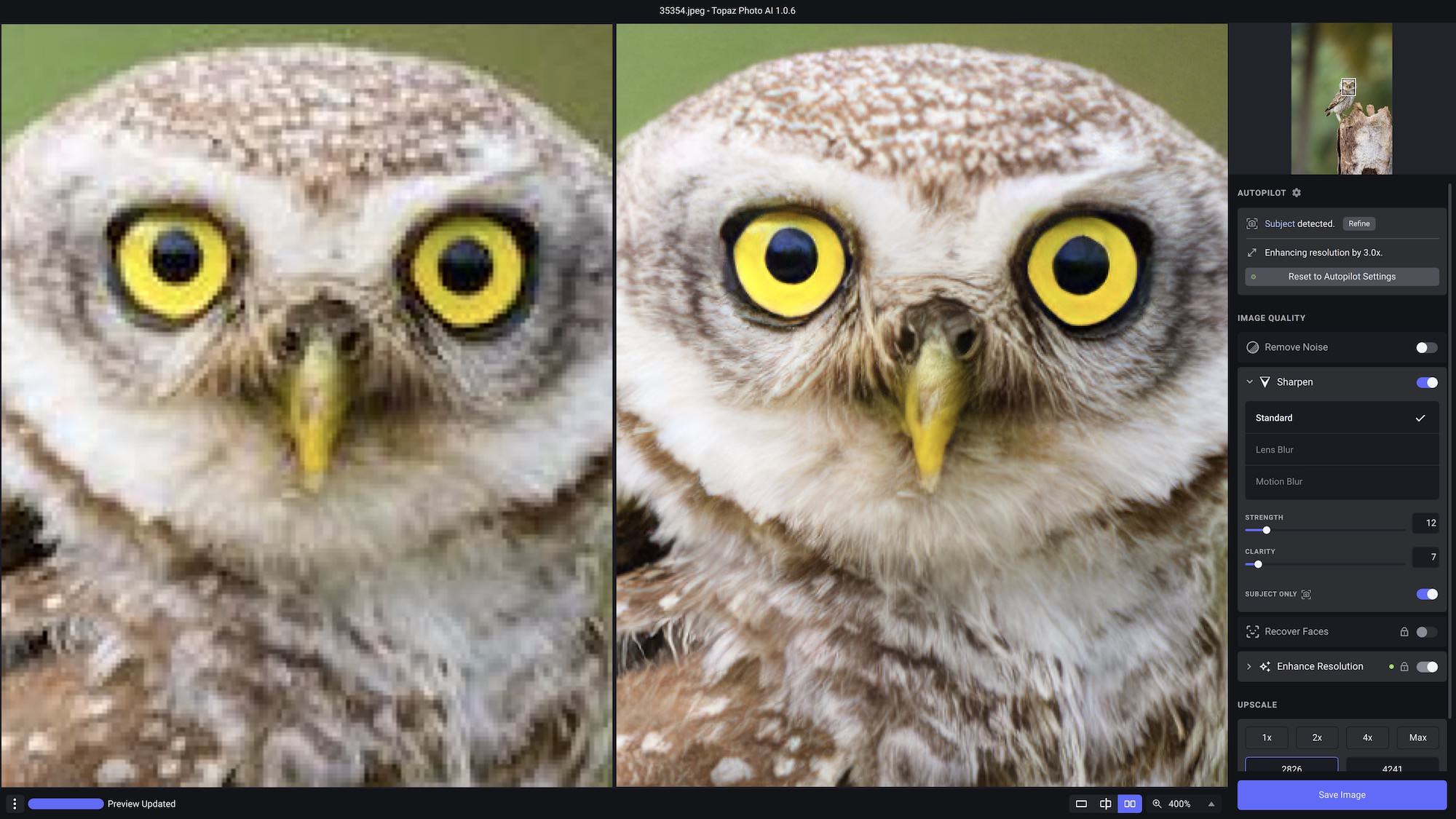 Say goodbye to unnatural, over-sharpened results when working on out-of-focus photos when you apply the new Standard sharpening model. It is ideal for images that need subtle sharpening as it better handles low amounts of blur without over-sharpening.
Get even more control over noise reduction and sharpening
You can now control exactly how much additional detail and clarity (edge sharpening) should be applied to your images when using the noise reduction and sharpening filters in Topaz Photo AI.
When expanding the Remove Noise filter, you will now have access to a Detail slider, which is the equivalent to a sharpening slider. Under the Sharpen filter, the new Clarity slider will add extra "bite" to high contrast edges, improving shape definition.
Apply targeted sharpening with even greater precision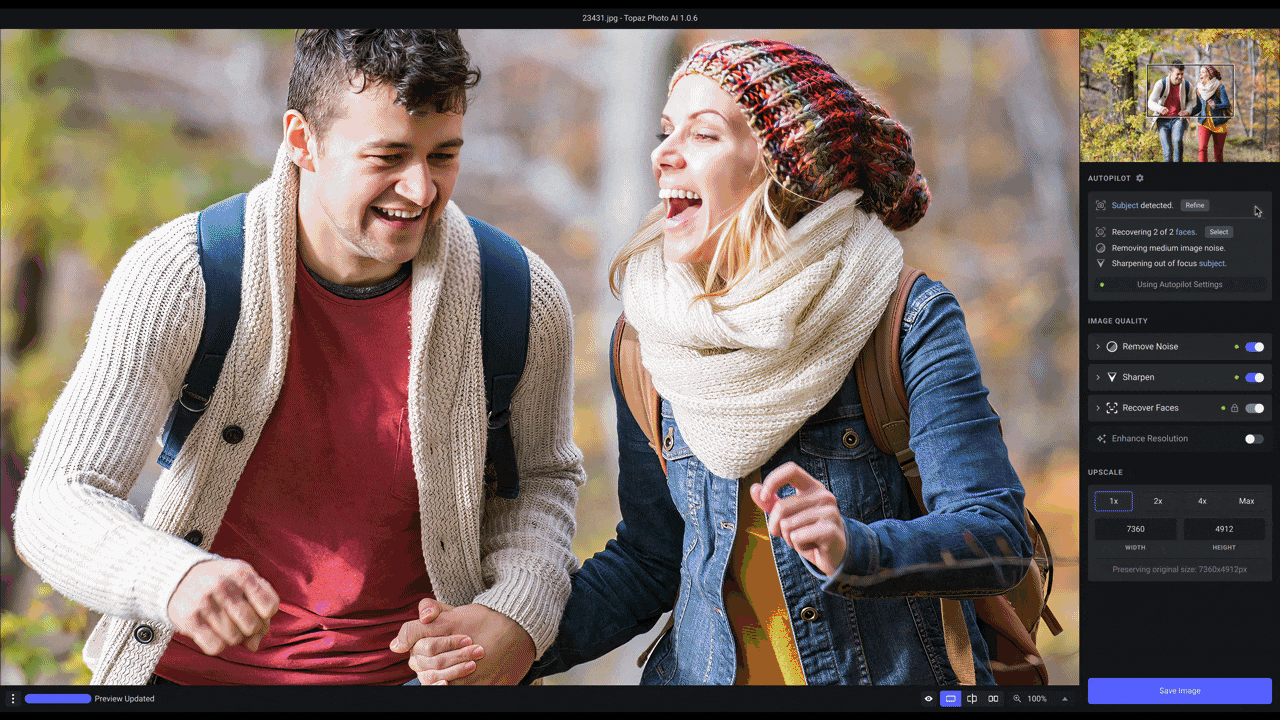 Add or remove where you want targeted sharpening to be applied with greater speed and precision than a traditional brush. The new AI brush allows you to quickly refine the auto-generated sharpening mask with more accuracy thanks to the advanced segmentation of your photo.
If the auto-mask missed an area of your subject, you can easily paint it in. Or, if the auto-mask selected an area that you don't want sharpened (as illustrated in the GIF above), you can paint it out in no time.
We are also planning on adding additional functionality to the AI brush, including brush size control in a future update.
Lots of bug fixes and performance improvements
While we've added a number of impactful new features to Topaz Photo AI, there are also A LOT of under-the-hood improvements that contributes to a snappier and more stable application. Here are some notable improvements:
Introduced a command line interface
Significantly reduced memory usage, particularly when batch processing
Improved plugin support for Adobe Lightroom and Capture One
Fixed an issue where some images would have incorrect cropping applied
Improved RAW file handling when lens correction had been applied
Improved accuracy of luma noise detection
Try Topaz Photo AI for free today
All of these new features and performance improvements automate your ability to get even higher quality photos. If you haven't tried Topaz Photo AI yet, be sure to download your free trial of Topaz Photo AI and see what incredible image quality on autopilot really looks like.